This Site Is A Participant In The Amazon Services LLC Associates Program. We may earn money or products from Amazon or the companies mentioned in this post.
Gel nail polishes are trending right now. Just like your dressing sense, your nails can also tell a lot about your personality. Well-maintained nails describe your dedication to your appearance and health.
We are living in a time where gel nail polish is the center of attention for improving the beauty of nails.
Where regular nail polish can easily be damaged, takes time in drying, and doesn't stay on nails for a long time, gel nail polish saves the day for you. In this gel nail polish guide, we will be discussing what gel nail polish is and some of the other things related to it.
What is Gel Nail Polish?
To put it simply, gel nail polish is a colored gel that either you can put on your nails yourself or someone can put on your nails. Compared to regular nail polish, gel nail polish is thicker with a glossier finish and lasts much longer.
Benefits of gel nail polish
Gel nail polish can do a lot of good to your nails. That said, the following are the advantages of gel nail polish:
If you didn't like the fact that traditional nail polish chips very shortly after getting dried, you will be amazed by the longevity nature of gel nail polish.
After properly applying a gel nail polish, it will cure itself to the nail with the help of UV or LED light and this is what makes a gel nail polish chemically much stronger than ordinary nail polish. Without chipping, gel nail polish comes with the ability to last for up to two weeks.
Traditional nail polish takes so much time in drying. Luckily, gel nail polish saves your time as it has quick-drying properties. Gel nail polish dries within a minute or so, and this means you don't have to worry about protecting your nails and keeping your hands idle till the time they dry as the drying process is quick.
The UV or LED light makes sure the color of gel nail polish quickly dries on your nails.
Gel nail polish is protective
It must be a huge pain for women who are struggling with frail or damaged nails. A lot of us don't take care of the nails as we should, and constantly exposing the nails to elements can damage them. If your nails are vulnerable to damage, gel nail polish might be the solution for you.
Acting as a barrier, the curing process protects your nails from outside pollutants and elements. Your nails may be prone to breakage and tears, but once gel nail polish is dried, it will prevent breakage and tears as it strengthens your nails. Another fascinating fact is that gel nail polish can't be removed easily, which means it won't let elements damage your fragile nails.
If you are an admirer of nail art but are afraid of painting decorative designs on your nails because you think you will mess up, gel nail polish might hold a solution for you.
Compared to traditional nail polish, gel nail polish is easier to apply, and this means you can create various designs easily to express your personality.
The gel nail polish gives a freshening impact to your nails as it stays fresh even when you are about to remove it.
How to remove gel nail polish?
If you can't visit a salon due to some reason, you should know the ways of removing gel nail polish at home. Follow the gel polish removal steps we are going to enlighten you with, and you won't face any difficulty in removing gel nail polish:
1. Firstly, skin protection is a priority
The gel nail polish removal process involves the use of acetone, and that is why shielding the surroundings of your nails should be the first thing in your mind. Use either Vaseline, cuticle cream, or oil to provide a protective layer.
2. Use the nail file to buff your nails
Use a quality nail file to buff away the top layer of your nail polish gel. This is done to make sure acetone penetrates in the next step. Once you are done with buffing off the top layer, place your hands under some light and check if any shiny patches are remaining that you need to file.
Make sure you don't go overboard as some color should be visible on your nails before you soak.
3. Soaking time
Now, get yourself a cotton ball or any small piece of cotton and soak it in acetone. The acetone should be of high quality. Once done with soaking, place the soaked-up cotton on nails. You are also open to the option of using regular nail polish remover for removing the gel nail polish but then you have to significantly increase the soaking time as regular nail polish remover doesn't give immediate results.
4. Use aluminum foil for securing the cotton
To hold the acetone-soaked cotton on your nail in place, wrap it with a small piece of aluminum foil. Once you have wrapped your all ten fingers, wait for 15-20 minutes. When you will remove the aluminum foil after 15-20 minutes, you will feel like gel nail polish fell off from your nails.
5. Gently remove the remaining polish
Be gentle and remove the remaining polish by using your manicuring brush or cuticle stick. If low pressure is not enough to remove the remaining polish, it means nails need to go through the soaking process once more.
Once you are done with removing gel nail polish, restore the moisture of your hands by washing and applying some hand cream on them.
Is gel polish bad for your nails?
The gel nail polish itself won't do any damage to your nails, however, picking at the gel polish can have serious consequences. If you start picking and peeling up gel nail polish, then you are actually making your nails thinner and weaker as picking and peeling up gel nail polish will peel away part of your natural nail.
Sometimes, it depends upon how you use gel nail polish. Suppose your nail cuticles and bed aren't properly dried before applying gel nail polish, then this means the extra moisture under the gel nail polish will have the potential of causing infection.
Gel nail polish isn't bad for nails, but it is advised to take breaks regularly from using it to allow your nails to breathe.
Does gel nail polish make nails stronger?
You are not the only one thinking whether gel nail polish makes nails stronger or not. If you are one of those who have been searching for different nail strengtheners so that you can make your nail strong, then your search is over. It turns out, gel nail polish does hold value when it comes to making nails stronger.
Gel nail polish won't make your nails thicker or structurally stronger but a topical gel nail polish layer will add extra strength to your nails. It's like your nails will have an extra protective layer against outside elements.
Gel Nails VS Gel Polish
Although both gel nails and gel polish have the involvement of the materials made of gel, they are different things, and one should know the differences between the two. The outcomes of gel nails and gel polish are different from each other.
Now, is gel nails better or gel polish? It depends upon an individual's preference.
Let's look at the differences between gel nails and gel polish to see which one is the better option for you.
The basic difference between gel nails and gel polish
Gel nails play the role of enhancing nails as they are artificial enhancement nails applied over natural nails. Gel nails can take the form of extensions on the tip of the nail, or they can cover the whole nail.
Now, as far as gel polish is concerned, it is a nail polish made of gel. Gel nail polish is directly applied to natural nails.
The application processes of gel nails and gel polish are completely different from each other. Compared to gel polish, the application process of gel nails is a bit more of an invasive process. An adhesive is used for applying nail enhancements, proceeding with the application of gel product over the enhancement.
Just like gel polish, you also have to replace gel nails after few weeks.
As far as durability goes, gel nails are more durable as they are much stronger than gel nail polish. Even though gel nail polish has the upper hand in flexibility, still, gel enhancements offer more toughness to nails.
Overall, gel nails and gel polish are like protective covers to your nails and can easily withstand daily use. If you already have stunning nails, go with gel polish but if you want to extend or redesign the shape of your nails, go with gel nails.
What should I do after gel polish manicure?
To maintain your gel nail polish and keep your nails healthy after gel polish manicure, you should:
Apply cuticle oil to your gel-polished nails two times per day so that your nails stay healthy beneath the polish.
When using strong chemicals, wear gloves to prevent peels or chips
Do take breaks between gel manicures to allow your nails to breathe.
Frequently Asked Questions Regarding gel nail polish
Final Thoughts Regarding Gel Nail Polish
Over time, gel nail polish has gained tremendous popularity in the beauty industry due to the fact it helps in enhancing the personality and increasing the toughness of nails. In this gel polish nail article, we tried to cover most importing things related to gel polish. Hope it helps!
You can also read the following:
Every Time I Wear Makeup I Breakout
Does Eyeshadow Expire If Unopened?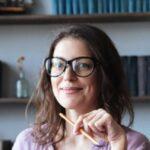 I am Amelia Varley, a blogger, and beautician. Here you can see my skills which give you small ideas on understanding all the concepts with different themes. I love to write blogs on different topics, like health, beauty, home décor, Automotive, Business, Food, Lifestyle, etc.