This Site Is A Participant In The Amazon Services LLC Associates Program. We may earn money or products from Amazon or the companies mentioned in this post.
Nowadays, looks matters a lot. So, hair and skin should look beautiful and healthy. Therefore, we have come up with research on a gem called Yarrow. It is a herbal plant used in ancient times for medicinal purposes. But recently, Yarrow is enjoying the limelight since it is discovered as one of the best ingredients for hair and skin.
Yarrow is commonly used for treating health issues like diarrhea, gas, liver disorder, skin healing, runny nose, and more. And you can easily estimate now; it is a healthy herb with good scientific evidence. Moreover, Yarrow is also used as a prime ingredient in different cosmetics like shampoo and skin creams.
Besides, Yarrow is safe and more likely to eat in raw form over salads. However, if it is applied directly over the skin and hair, it gives you potential benefits. So, here in this article, we will explain some of the best benefits of using Yarrow for hair and skin. Also, how to use Yarrow for hair growth and having beautiful skin. 
Yarrow Tea for Hair
Yarrow has been used for thousands of years for its health benefits. It was known with various names such as Achillea Millefolium, Knight's Milfoil, Thousand Weed, nose bleed, and soldier's herb. It is native to European America and Asia countries. 
Yarrow herb is well-known for its wound healing properties. Besides, it is popular for its hardiness and extensive rhizome. Its dried white flowers and stems are used in brewing and making Yarrow tea for hair. However, the process of preparing tea is simple.
Collect dry leaves of yarrow petals and steep them in hot water or boil it for 10 minutes. It is to take out healthy flavors and essential oils from the petals. So, when it comes to taste, it is quite bitter. But it is not toxic, so it is safe to drink. Also, the tea has astringent properties that provide your hair best results.
Natural dye and hair coloring
Yarrow has different varieties of colors, but the most common are white and yellow. And when it is cultivated in California, it might be pink and red. However, the white yarrow petals with yellow stigma in the middle of the flower produce a natural dye color.
You can naturally mask your grey hair by adding vinegar, ammonia, copper, and iron to produce olive, brown, and orange color. As per the doctor, using yarrow tea 2-3 times a week can naturally restore your hair color.
Get Back Your Hair Luster
The yellow color pigments available in yarrow tea help you get back your hair luster in a week. However, using it frequently can prevent grey hair and work as an ideal component that stops the reverse signs of aging.
Yarrow Oil for Hair
Yarrow plant is often used for decorative items, but it is mostly used to boost pollination and bee-keeping since flowers have an intense aroma which helps bees to excrete more honey. Moreover, the yarrow plant is often considered a weed, as it has fantastic healing properties and proves an incredibly great remedy to have healthy and strong hair.
Yarrow herb includes plenty of flavonoids that make it a better substitute for relieving pain and managing the nervous system. Additionally, it has powerful analgesic and antiseptic properties that are good in treating skin wounds. By utilizing this amazing plant, people often prepare its natural oil or use it naturally.
But we recommend you opt for the best Yarrow oil product manufactured by the company, as they removed all the impurities present in the Yarrow that can cause side effects. Besides, if you want to prepare it yourself, here is a DIY yarrow essential oil recipe.
How to make yarrow oil at home?
If you are ready to give it a try, go ahead because it doesn't require many struggles. All you have to do is:
Take 1Ltr of olive oil
2 cups of freshly dried leaves
Take one glass jar and cheesecloth filter
Use rosemary to make it more powerful
Now take a jar and put rosemary and dried leaves into the jar, and pour oil over it.
Leave the jar for 3-4 weeks, but shake it regularly.
After weeks, filter the jar, and your oil comes out.
How to use Yarrow oil for hair?
As we discussed earlier, yarrow oil and tea are highly beneficial for enjoying healthy hair growth. Suppose you are dealing with regular hair problems like hair fall, itchiness, grey hair, and more. Utilizing the Yarrow oil can help your head to have a healthy growth of hair.
Yarrow oil has astringent properties that work under the pores, meaning open clogged pores, so your hair becomes shiny, strong, and ultimately beautiful. On top of that, if your scalp is oily, then add 15 drops of yarrow oil into lukewarm water and rinse off your hair with simple warm water. This will make your hair healthy and get rid of excess oil. Also, it protects your hair from split ends and adds volume to your hair.
Yarrow Benefits for skin
Despite the health and hair benefits of Yarrow, it is a well-known ingredient to prevent your skin against skin infections and control skin blemishes. Moreover, the yarrow herb gives several benefits, so look below.
Yarrow has active anti-inflammation properties that are good enough to speed up the healing process and reduce wrinkles. Also, it keeps skin highly moisturized and free from a bacterial infection that can prevent your skin from breakouts, especially acne. It is safe if used perfectly.
Give supple and beautiful skin
Yarrow oil is perfect for penetrating the skin deeply and preventing early signs of aging. The oil works deep inside the skin and gives non-oily skin. Also, its few drops give extreme moisture to the skin, so your skin glows flawlessly. 
Its astringent and antiseptic properties help your skin stay tight, heal broken capillaries, promote PH levels, increase moisture content, and reduce scarring. Also, it is ideal for problematic skin, as it has powerful therapeutic properties.
Blue yarrow for skin Benefits
Hippocrates praised it as an anti-inflammatory and healing plant over 2400 years ago. In the Middle Ages, blue yarrow was used to dress wounds, boils, and skin lacerations. Today, there is a high degree of scientific evidence that supports these traditional uses:
Yarrow (Achillea millefolium) is effective in treating many skin diseases, especially those involving inflammation.
Nitrates present in yarrow act as diuretics and promote the elimination of uric acid. (This action is similar to that of Allantoin – often used for cleansing skin ulcers).
Yarrow stimulates the microcirculation of capillaries, thus promoting healing processes.
Yarrow is rich in tannins, saponins, salicylic acid, and flavonoids, which act to close the pores of the skin. Yarrow also slows down pigment oxidation processes.
The dermatological properties of yarrow are enhanced by terpene alcohols (borneol), ketones (marrubin), and essential oils. The last two substances have bactericidal, antiseptic, anti-inflammatory effects.
Achillea millefolium extract is effective in treating acne, seborrhea, psoriasis, eczema, herpes simplex virus infections (in particular, genital herpes ), herpes zoster (shingles), and other diseases that have an inflammatory nature, as well as being effective in treating many other skin conditions.
Internal use of blue yarrow is contraindicated during pregnancy, due to the estrogenic effects of flavonoids. If you are suffering from hormone-related acne, it makes sense to avoid blue yarrow if possible during this period of your life. For the same reason, blue yarrow should not be consumed by women who are trying to conceive.
Blue yarrow extract may also have some side effects on the skin including mild contact dermatitis in some cases. Blue yarrow extract is for external use only. If you are suffering from a severe skin condition, seek advice from your healthcare professional before using blue yarrow extract.
How to Use Yarrow for skin?
To reduce wound swelling put some drops of oil over the affected area or use it dried leave as a poultice.
To stop bleeding, use its powder and applied it over the wound.
Use yarrow tea as a cleanser to open and tight pores of the skin.
To reduce fever, take a warm bath by adding few drops of yarrow oil in the tub.
Use yarrow oil to soothe irritation on the skin.
Infused yarrow oil or tincture to reduce varicose veins and pump blood circulation.
Yarrow pom for acne
Yarrow pom is an essential blend of blue Yarrow that contains antioxidants and extract of rich-pomegranate seed oil. This duo can work amazing on your skin and provide you with numerous benefits you are looking for. It is suitable for all skin types and maximizes the skin glow by healing your skin internally.
The active ingredients of this herb revitalize your skin and deliver active skin proteins to promote collagen production and makes it the best component for enjoying beautiful skin forever. However, for acne Yarrow Pom is recognized as giving soothing properties and boost immune function.
As per research, Yarrow is the best ingredient for acne treatment. The plant is highly effective to boost blood circulation and regenerate skin cells. Also, it helps your skin to remove scars and heal your skin internally. Its strong astringent properties will tighten your pores and skin so that it looks healthier and beautiful. Moreover, yarrow compounds are very effective and non-toxic, so there is no risk of using them.
The existence of linalool and cineole in Yarrow helps your skin to remove excess oil from the face and regulate the amount of oil that your skin produces. This excess oil is basically the reason for clogged pores and blemishes over the face. The frequent use of Yarrow can significantly prevent the excess oil and help you achieve healthier skin.
Final Words
The Yarrow plant has tremendous benefits for your skin and hair. Therefore, we suggest you opt for this essential oil and tea to see the real differences. However, using Yarrow directly over the face can cause side effects, so ensure you use it as oil to enjoy beautiful and healthy skin.
We hope you found this article helpful. So try this essential herb now and start seeing the changes. Good Luck & be beautiful!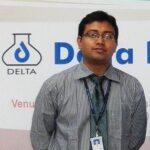 Rakib Sarwar is A Registered Pharmacist and a reputed health and wellness blogger. He has a special interest in cosmetology and dermatology. He researches skincare problems and tries to educate people. He is also an experienced niche site product review writer and editor. He is currently focusing mainly on blogging and digital marketing.