This Site Is A Participant In The Amazon Services LLC Associates Program. We may earn money or products from Amazon or the companies mentioned in this post.
Are you fond of flawless skin but don't know how to attain it? If so, here's a way for you! You can use products made up of Shea Butter to soothe your skin. On the other hand, many of you might be struggling with acne problems after using shea butter products. We'll be guiding you with solutions through this article.
Shea Butter can affect you in many ways, such as if you are allergic to shea-nut tree, you should avoid using it. Also, an overdose of shea butter can be harmful to your skin. In case of any allergy, you must consult a dermatologist immediately! Now, let's move into the article to give you a complete insight into Shea butter!
What is Shea Butter?
Shea Butter is a fat that is solid at a warm temperature. It has an off-white or ivory color. Shea Butter can also be used as a substitute for cocoa butter. To your surprise, you can use shea butter as a cosmetic ingredient be it, moisturizer or lotion. Its consistency and ease of application make it an excellent product for smoothing, soothing, and conditioning your skin.
Shea Butter is a tree nut product. When you apply it, the oils rapidly absorb into your skin which consequently acts as a moisturizer. Moreover, if you have oily skin, shea butter is one of the best ways to go with it! It will absorb in your skin and won't make your skin oily after application.
You might not know that shea butter is of two types, raw and pure; these are natural types of this butter that are yellow or green in color. However, they have some impurities as they are sold right after the extraction from the nuts. You should be very careful in selecting the right product for yourself.
In addition, unrefined shea butter will add value to your skin or hair as it is extracted manually and consists of unlimited natural properties. On the other hand, you should not consider refined butter as it loses its nutritional value in processing.
What is Shea Butter Made From?
It's extracted from the nuts of the African shea tree. It is derived from two oil kernels found within the seed of the shea tree. It is crushed and boiled in water; the butter then rises to the top of the water and becomes solid. Also, Shea butter, after treatment with alkali, can be added as an ingredient to a soap.
What is Shea Butter Used For?
Surprisingly, you can use shea butter in many ways, such as you can apply to your skin for acne, sunburns, eczema, and dandruff. You can also use it as fat in food items. On the other hand, soap manufacturers can also take advantage of shea by adding a small amount of shea butter to their products. Moreover, you can also use the cooking oil as a waterproofing wax for hairdressing or candle making.
You can apply it directly to your skin. Also, due to its slippery nature, it keeps your makeup in place. However, if you are going through problems handling your curly hair, you can make good use of shea butter. As it will act as a conditioner for your curly hair.
To keep your straight hair even silkier, consider using it on the ends of your hair. Otherwise, applying it to your roots may cause an oily look. On the contrary, if you have an oily scalp, then you should avoid using oil that contains shea butter.
Is Shea Butter Comedogenic?
The consistency of shea butter is likely to be comedogenic. In some cases, allergic reactions to shea butter are rare because shea nuts contain tiny proteins that trigger allergies. However, for some of you, it can be comedogenic.
Moreover, if your skin is acne-prone or allergic to shea nuts, you should not prefer using shea butter on your skin. As in some instances, it can clog your pores and cause acne.
Pure shea butter on your face could lead to breakouts. Even using some products that contain less amount of shea butter may lead to acne.
Is Shea Butter Non-Comedogenic?
Shea Butter is less likely to be Comedogenic. It moisturizes your skin and removes excessive oil at the same time. This is one of the measures that can cure active acne breakouts. Also, it consists of properties that can remove wrinkles from your face.
If you face any skin infection, you are advised to use Shea butter as powerful ingredient that can fight against skin infections. At the same time, shea butter can protect your skin cells from free radicals that can lead to dull-looking skin.
In addition, it doesn't contain chemicals that are known to dry out the skin. It is appropriate and safe for any skin type. You can use it for its moisturizing effects. If you have oily skin, it's the best option for you to choose.
Is Shea Butter Good For Stretch Marks?
If you are facing issues related to stretch marks, you should use Shea Butter to cure them. This has been advised because shea butter stops the scar tissue from reproducing and encouraging healthy cell growth to take its place.
Shea Butter is rich in Vitamin A, which increases skin elasticity. If you'll apply it daily, it's possible to minimize the formation of stretch marks. It's essential to select Shea butter that is 100% raw and unrefined.
Shea Butter consists of Anti-inflammatory properties that can help to minimize the redness associated with stretch marks. Also, the moisture in Shea butter helps you regain your smooth skin and make you feel youthful again.
Is Shea Butter Good For Sunburn?
If you are willing to go on a beach party and are worried about your skin, you are advised to use Shea butter to act as an effective sunscreen for your skin. Also, it contains an estimated SPF of 3 to 4. It consists of fatty acid components which may soothe your skin by retaining moisture. In addition, it also helps in reducing redness swelling due to its anti-inflammatory features.
Is Shea Butter Good For Face and Hair?
Shea Butter can make your hair stronger. It may also help you in treating dandruff by restoring the moisture to your irritated scalp. You must use Shea butter as a moisturizer as it could help decrease dandruff flakes. On the other hand, you can add other ingredients to this butter to make a hair mask.
Shea Butter consists of acids that balance oils on your skin. Also, it contains Vitamin A and Vitamin E that help in healthy skin cell growth. What you might not know is that you can also use it as a shaving cream. Shea butter can also be used in face masks, which may give your skin a new look.
If you are worried about your wrinkles and age spots, you must use anti-aging creams that consist of shea butter. With the help of this butter, your age spots will go away.
Is Shea Butter Good For Eczema?
Taking its anti-inflammatory properties into consideration, it may minimize the itching on your skin. This is very helpful for conditions such as eczema. Moreover, Shea butter also absorbs rapidly, which can result in quick relief for flare-ups. In addition, it is to be suggested that, instead of using medicated creams, you should use Shea butter to cure your eczema.
Is Shea Butter Good For Acne?
Shea Butter can help you in reducing the redness of acne scars. Vitamin F and Fatty Acids in Shea butter act as an anti-inflammatory element against your acne scars and inject moisture into your skin.
Taking shea butter's antioxidant properties into consideration, it can heal and protect your skin from acne scars. If pimples are popping on your skin, then by using Shea butter, you can recover your wounds and popping pimples. However, if an excessive amount of moisture does not suit you, then you should avoid using Shea butter products on your face.
Shea Butter Warnings
If you want smooth, silky skin, then you must consider using Shea Butter. However, if you are not allergic, then using Shea butter can be a bad option. There's a possibility of experiencing adverse reactions because Shea butter is extracted from the Shea tree nuts.
Shea Butter allergies can be rare. If your skin reacts, you must discontinue using it. If you are still willing to give it a chance, then you must apply a tiny amount on a small patch of your skin.
Final Words
If you are looking for flawless, soft skin, then you must consider the measures mentioned above. Shea Butter can be a useless element to consider if they are allergic to it. This magical skincare product is packed with essential nutrients that can help you grow from inside and out.
Select the right Shea butter product according to your skin for healthy and glowing skin! You might have struggled before searching for solutions. Hopefully, this article must have cleared your problems.
You can also read the followings:
Every Time I Wear Makeup I Breakout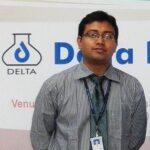 Rakib Sarwar is A Registered Pharmacist and a reputed health and wellness blogger. He has a special interest in cosmetology and dermatology. He researches skincare problems and tries to educate people. He is also an experienced niche site product review writer and editor. He is currently focusing mainly on blogging and digital marketing.